As we all know, I'm easily irritated at many "types" of people. Overly political/religious spouting folks usually hang at the top of my list. (Only because complaining about Memphis drivers is pretty much a moot point.) I'm not a fan of zealots of any kind. I don't care if I agree with the basis of your argument. If you're loud and argumentative, hold signs, or post a million Facebook updates about it, you can pretty much guarantee that you're irritating the hell out of me. I don't discriminate---I'm just as equally aggravated by the obsessive Bible-quoters as I am the Gay&Women's rights screamers. I guess it's because I hate debate and I'm not big on confrontation. (Please don't get me started on the school merger debate---that's a whole other blog post and it would most likely get ugly.) I have my opinion, my opinion is the only one that matters to me, I don't care what your opinion is (especially if it's different from mine, because you're wrong) and I don't want you to try and convince me of why you think you're right. Because you're not and that's it. Done, end of discussion, moving on.
But as much as I detest the political and religious nutcases, I've found a new group of people who officially irk me more than anyone else on earth: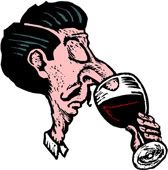 Today, I read on someone's Facebook page that there was some woman on TV who was showing some poor guy how to "properly drink wine." Ok, I'm gonna need you to stop. Drink it how you like, bathe in in it, stick your nose in it, I don't care. But do NOT tell me that I'm drinking something incorrectly because I don't wanna sniff it and swirl it around and swish it in my mouth. I know to your fellow wine snobs, you look enlightened. In MY world, you look like a tool. Once again, this goes back to: my opinion is my opinion and my TASTE is my taste. If I want to grab a $4 bottle of Riunite Lambrusco from the gas station and drink it, why do you have to say something about it?? If you would rather drink a $40 bottle of Chateau De St Morocco Guensfengieher extra-dry chardonnay, then go for it! I'm not gonna say a word. I don't know why people always have to comment on what other people choose to eat or drink.
I'll be the first person to say that I don't know jack shit about wines. I'm a beer girl (and yes, it's Bud Light, and please don't tell me that I'm drinking water and that it's not real beer if it's not dark and from another country. Shut your face.) and the only time I really ever drink wine is when I'm at someone else's house who has it. I have bottles here, but I very rarely just sit and drink it. No one else in my house drinks, so I feel like a loser boozer if I'm just sitting here gettin' tipsy alone. (That's what my brother's house is for!) But on the off-chance that I'm drinking it, it's usually some kind of Riesling, just because it's sweet. Give me a glass of something "dry" and I'll give you the same face as if I just shot tequila. But that's my choice. Is it affecting your life in any way whatsoever?? No, so why do you have to comment on my Zinfandel or whatever I chose to have? I'm not commenting on your hideously ugly shirt, or the fact that you could REALLY use some makeup. You know why? Because that's rude. I don't like rude people. I don't even like to point out to waiters that they got my order wrong, because I grew up being taught that you eat what someone makes you and you don't complain. It's rude. Why is it that you think it's not rude to question what other people choose to eat or drink?
I mean, I could easily drink an entire case of Dr. Peppers in one day. Seriously, it's been done many time. I absolutely detest diet drinks...I mean, utterly detest....with a loathing passion that I usually save specifically for Dave Matthews. Meanwhile, my best friend will blow through Diet Dr. Peppers like they're going out of style. Is this an issue? No, because what another person chooses to drink doesn't affect me. (I just make sure to have some in the back of the fridge for when she comes over. lol) But there are people who just aren't content in life if they're not pushing off their own personal opinions on you and making you feel as if you are inferior to them because of what you choose to satisfy your own appetite. I just can't wrap my brain around that concept! If I want to drink watery beer or drink Dr. Peppers with a gourmet meal instead of a specific wine that "complements" the food, how bout you just let me do that and shut up!! I personally don't like wine with food. I drink because I'm thirsty and I like VERY spicy foods. So this whole 'sip your room temperature wine while you eat' doesn't work for me. I need something cold that I can chug (and then burp really loudly as soon as I get to the parking lot). But you've always got this one uppity little snot, or some overly-opinionated douchebag who insists on calling attention to it. Makes me want to cheese-grate their faces down a concrete pavement.
Same goes for food. I have been been with people who actually seem BOTHERED by the fact that I would eat steak sauce on a steak. Really?? "You're ruining a good cut of meat by putting that on it." Last time I checked, I was the one eating it, not you. And I like the way A1 tastes...I like it on lots of things. I eat my steaks rare (like still mooing rare) and I like A1 with it. Get over it, move on, find a new topic of conversation. It's not that friggin' interesting.
I do need to point out that I have a serious food insecurity to begin with. I've always had it, and apparently I get it from my grandfather. I'm VERY nervous about eating and/or talking about my food in front of people. My family, yeah, I'll shovel down whatever, but if I'm not around you a lot, I will practically seize up when the question is asked: "So what are you gonna order?" I'll blush, stutter, mumble and be like "Oh look, a kitty!!" just to take the focus away from me and my food choice. I don't know why it is, but there ya go. And what's weirder than that is that I LOOOOOOVE to cook. I'm one of those not-so-normal-these-days women who cooks dinner for my family every single night. We'll do to-go sometimes on weekends, but for the most part, yes, every night, I cook. But again, here comes the insecurity. If I have to cook for "outsiders" (meaning, anyone who is outside of the 6 people who are in and out of my house every day....or Kim) I'm a nervous wreck. I don't handle food criticism well, because once again, the weird insecurity. Luckily, so far (knock on wood) I've never had a complaint on anything that I've brought to a party, and in 90% of the cases, I've been asked for the recipe, or asked to make it for them again. But that still doesn't change the fact that I don't like to talk about my food. (The only reason I can do it here is because none of you are LOOKING at me.)
Ok, I seriously have no idea where I was going with this. See, this is why I never blogged before. By the time I'm done with one thought, the point of the story has completely flown out the window. I have a completely random mind and I'll ramble on forever about nothing!! Just be glad I'm not on my usual rant about music choices! Really, I don't even think I had a point, I just felt like bitching, because it got brought up on Facebook and the subject always pisses me off. So please, for the sake of my sanity, if you're ever out with me (which is probably never going to happen, because I'm so anti-social that I hardly leave my house) PLEASE don't call attention to my food or drink. Because secretly, you're creating a knot in my stomach and I'm blushing down my chest as we speak. Thank you and good night.
And of course, now I'm hungry...